Ultimate Burger with BBQ Sticky Fries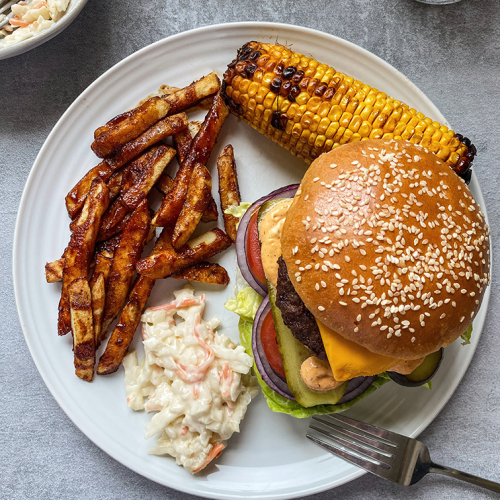 Ingredients
McCain Sticky Fries Texas BBQ
2 Seeded Burger Bun
2 Beef Burger
1 Red Onion
4 Tomatoes (Salad)
1 Romaine lettuce
1 jar of gherkins
1 pack of Cheese Slices
1 tube Burger Sauce
1 pack Coleslaw
2 Corn on the Cob
4 cans IPA beer
How to cook
Step 1
Preheat the oven to 210°C/200°C Fan/Gas Mark 7
Step 2
Line your oven tray with greaseproof paper and spread the fries in an even layer onto your lined tray (Do not place carton in the oven). Pop it into the top of the oven and Bake the fries for 18- 20 minutes, turning them every now and again until they're lovely, crisp and light golden.
Step 3
Add the corn on the cob to the baking tray with a drizzle of oil and salt and pepper with 10 minutes remaining on the fries.
Step 4
Remove the corn from the oven when golden and succulent
Step 5
While the fries are cooking, heat a frying pan and add 1 tsp oil. When pan is heated add your burger, cooking for 4 minutes each side, turn the heat off, and add the cheese slice and leave to melt.
Step 6
Carefully take the fries out of the oven and drizzle over the sticky glaze sachet. Pop back into the oven for 2 minutes, until the sauce is gently bubbling. Carefully take the fries out of the oven, turn the fries to coat with the sticky glaze before serving.
Step 7
Prepare your bun with your lettuce, sliced onion, sliced tomato and gherkin, add the burger and top with the burger sauce.
Step 8
Assemble all of your tasty components onto the plate with a side of coleslaw