At McCain, we're passionate about potatoes. And with our potato products, we aim to bring joy to everyday meal times. As a family-owned company, we care both about using simple ingredients in our products and about our people who make them. Here you'll find out everything you need to know about who we are and working for McCain.
You can learn more our sustainability targets and the work we are doing to become more sustainable, supporting our farmers and working with local communities, on our sustainability page.
If you're looking for more information on McCain as a global business, head over to McCAIN.COM.
WHO WE ARE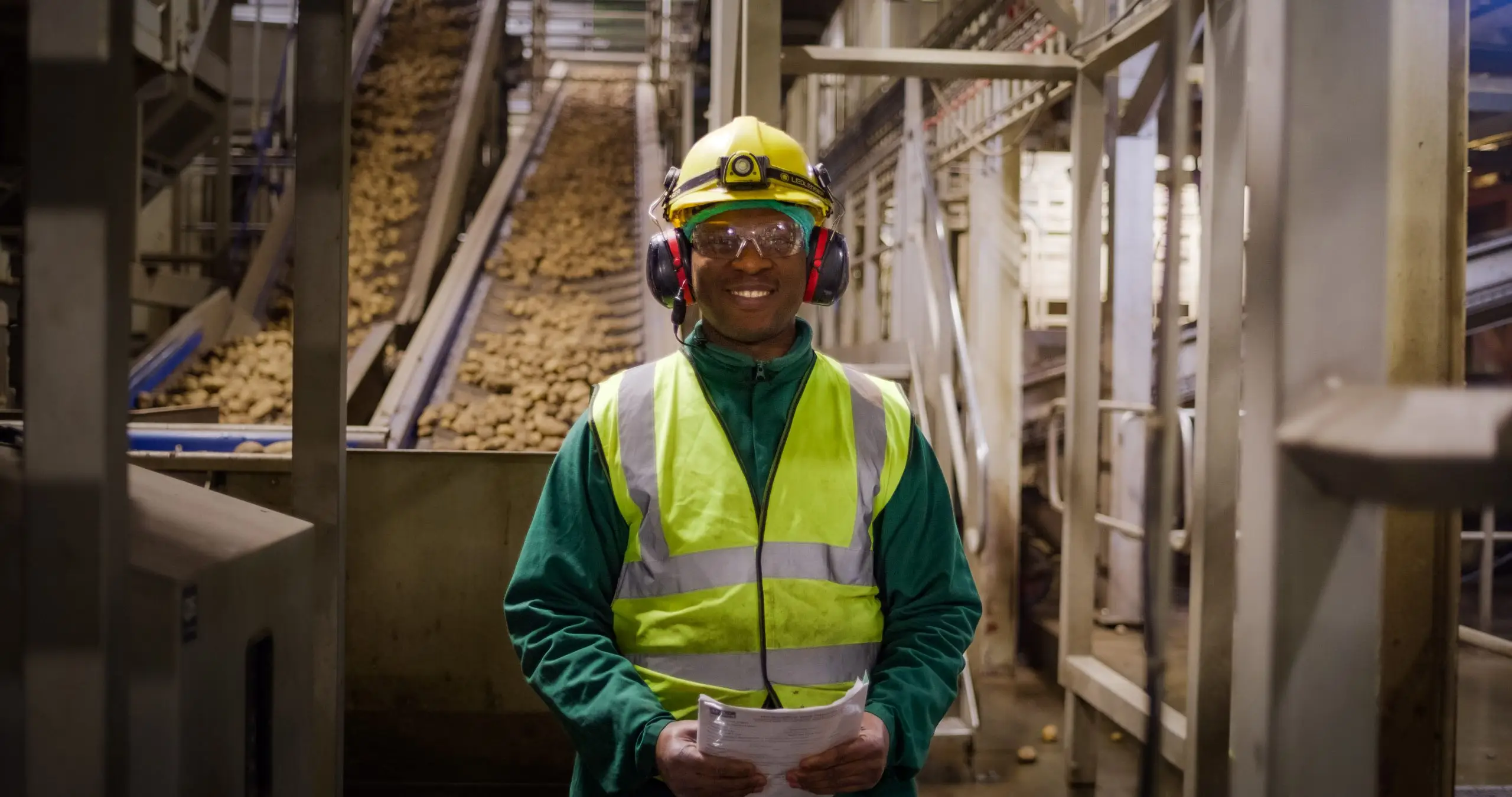 Smart & Sustainable farming.
GOOD PEOPLE

As much as we love potatoes, we love our people even more. We know that having good people is the key ingredient to a great business and delicious, top-quality food. No, don't worry. Our chips and appetisers don't contain people!
In the UK and Ireland, we have more than 1,600 people working incredibly hard to help us produce some of the nation's favourite potato- and cheese-based products across seven locations, including Dublin, Grantham, Hull, Montrose, Scarborough, Whittlesey and Wombourne.
Working for McCain
There are so many reasons to shout about being a member of the McCain family: mainly, that we get to help feed the nation and celebrate real connections with delicious planet-friendly food. We provide a range of learning and development opportunities to help our people become the very best versions of themselves, allowing them to realise their full potential and help drive our business forward. We also offer every McCainer physical and mental healthcare support, a generous pension scheme, and a number of other benefits and rewards.
We're proud of our positive, flexible and inclusive working environment that encourages all our colleagues to be their true and authentic self, whether they work in one of our six UK-based factories, our Head Office in Scarborough, or remotely elsewhere across the region.
As a global business, we also offer our colleagues overseas opportunities across all six continents, which means many of our people have been able to add international experience to their CV.
In 2022, we were named as one of Forbes' world's best employers.

Safety is our top priority
Here at McCain, we firmly believe that nothing is ever worth getting hurt for and that every one of us should be able to go home to their friends and families at the end of their working day.
Safety is our number one priority. No questions asked. As part of our 'For Us, For Family', we begin every meeting with a safety moment, where we share best practice and other information to help keep everyone safe.
Lifelong learning
Education is essential to not only help us build our future as a business, but also helps us give back to our communities. We run two fantastic schemes here at McCain:
McCain Manufacturing Academy: The Manufacturing Academy provides all our plant-based colleagues with the opportunity to learn and develop key skills with nationally recognised qualifications. The lessons our Academy apprentices learn not only helps them develop their careers, but also help us continue to succeed as a world-leader in our field.
McCain Scholarship Programme: it's not just our colleagues' learning we support, it's their children's too! Every year, we award up to seven scholarships for higher education to the children of people who work with us.
Aside from these two internal schemes, as part of our community work, we also support local education establishments in the communities local to our sites.
Diversity, Equity & Inclusion
We know that a business can only thrive when its workforce represents the diversity of its colleagues, customers, consumers, suppliers, and communities. Here at McCain, we champion diversity and real people in our advertising and across our business. We have a comprehensive strategy in place, which embeds DE&I across all parts of our business, culminating in the annual celebration of National Inclusion Week.
As part of our ongoing commitment to DE&I, we welcome the introduction of gender pay reporting and acknowledge the need for progress in bridging the gap that exists today. Our reports can be found here: 2021 Report / 2022 Report / 2023 Report.
In 2022, we were named as one of Forbes' top female-friendly companies.
We're also proud to support local initiatives that champion diversity, equity and inclusion, including Pride events in both York and Scarborough.
ETHICAL PRACTICES
60 years ago, the McCain brothers established our business on their belief that 'good ethics, is good business', and this remains fundamental to our values today as a responsible company.
As such, McCain Foods (GB) Limited is committed to ensuring that slavery and human trafficking are not taking place in any part of our business or supply chains.
Click here for further information.
UK TAX STRATEGY
McCain is committed to full compliance with all relevant UK tax laws, rules, regulations and disclosure requirements. McCain seeks to uphold its high standards of business conduct and ethics as reflected in McCain's Code of Conduct. More information can be found here.
NATION'S CONVERSATIONS
To understand more about families across the UK, we launched the McCain 'Nation's Conversations' report in 2019; a bi-annual research series that celebrates the realities of modern families in the UK as part of our 'We Are Family' campaign.
The report series offers fly-on-the-wall access to what families are discussing around their dinner tables and the differing opinions that are expressed – all the while recognising that these differences ultimately bring families closer together at home.
So, whether families are talking about last night's TV viewing or debating world politics, or trying to delve into the mystery of their child's school day, 'Nation's Conversations' will get under the skin of the emotional impact of these mealtime conversations, and how they bring us closer as a family, over the food we love.