Homemade Fish and Chips
Try out this homemade fish and chips recipe using McCain Lighter Home Chips. Enjoy a satisfying meal without a deep fryer that's healthier than the chip shops.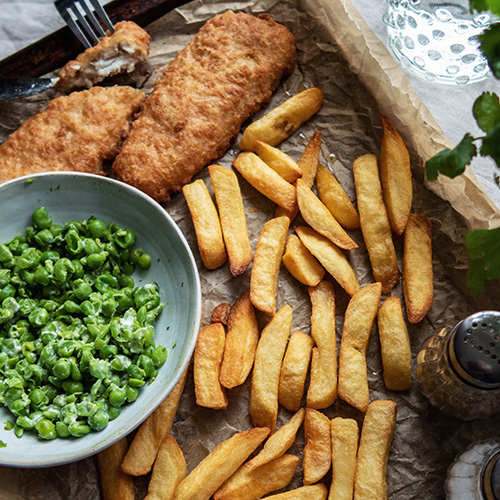 Ingredients
110g McCain Lighter Home Chips straight cut
1 white fish fillet (without bones)
1 tsp flour
Salt and pepper
1 egg (beaten)
2 tbsp wholemeal breadcrumbs
50g frozen peas
1/2 tbsp low-fat yoghurt
How to cook
Preheat the oven to 220C/Mark 8.
Step 1
Dust the fish in a layer of flour, dip in the egg and coat very lightly in breadcrumbs.
Step 2
Spread a single layer of McCain Lighter Home Chips onto a baking tray and pop into the oven for 22-24 minutes.
Step 3
Place the fish on a baking tray (using baking paper), and cook for around 10 minutes or until the fish is translucent.
Step 4
Cook the peas in hot water for 5 minutes. Drain, then mash and stir in the yoghurt.
Step 5
Once cooked, pop everything on a plate. Salt and pepper to taste.