Chicken Burgers with Wedges
Homemade Crispy Chicken Burger and Wedges Recipe
Try out this crispy, homemade chicken burgers recipe using breaded chicken breast. Enjoy with McCain Lightly spiced Wedges for a satisfying dinner.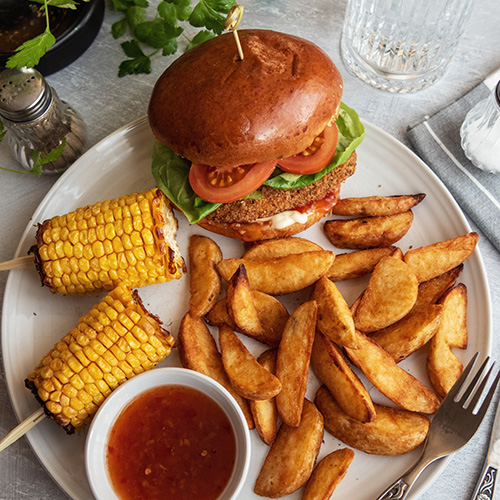 Ingredients
220g McCain Lightly spiced Wedges
2 small corn on the cobs
2 chicken fillets (skinless)
100ml milk
70ml low-fat yoghurt
1 garlic clove (crushed)
1/4 tsp cayenne pepper
40g flour (seasoned with 1/8 tsp cayenne pepper)
1 egg
120g breadcrumbs
200ml olive oil
2 brioche buns
How to cook
Step 1
Mix together the yoghurt, milk, garlic and cayenne pepper. Add the chicken and leave to marinate for a couple of hours.
Step 2
Once marinated, preheat the oven to 220°C/Gas Mark 7.
Step 3
Rub the corn with butter, sprinkle with salt and pepper, and pop in the oven for 25 minutes
Step 4
Spread a single layer of Wedges onto a baking tray and pop into the oven for 18 minutes.
Step 5
Place the flour, beaten eggs and breadcrumbs in separate dishes. Dip the chicken first into the flour, then egg, then breadcrumbs, then onto a baking sheet.
Step 6
Add oil to a frying pan. Once hot, cook the chicken until crispy.
Step 7
Half the burgers buns on a plate, place the chicken inside and add preferred salad and sauce.
Serve and enjoy.