Asian Glaze Chicken Kebabs with Thai Sweet Chilli Sticky Fries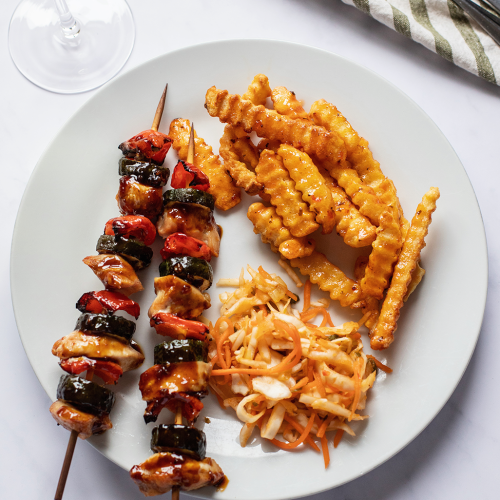 Ingredients
McCain Sticky Fries Thai sweet chili
2 Diced chicken breast
1 Courgette
1 red Peppers
5 tablespoons Dark Soy Sauce
2 teaspoons Dark brown sugar
1 teaspoon Minced garlic
2 tablespoons Rice wine vinegar
1 tablespoon Chilli garlic sauce
1 teaspoon Grated ginger
2 tablespoons Sesame oil
½ teaspoon Grounded black pepper
2 tablespoons Cornflour
1 pack Pickled Coleslaw
1 bottle White wine
How to cook
Step 1
Preheat the oven to 210°C/200°C Fan/Gas Mark 7
Step 2
Line your oven tray with greaseproof paper and spread the fries in an even layer onto your lined tray (Do not place carton in the oven). Pop it into the top of the oven and Bake the fries for 18- 20 minutes, turning them every now and again until they're lovely, crisp and light golden
Step 3
Cut the Chicken, Courgette & Peppers roughly 8cm by 8cm and place onto the skewers. Lay on a separate baking tray and cook at 200*c Fan for 15 – 17 minutes.
Step 4
For the Asian glaze, Stir soy sauce, brown sugar, garlic, rice wine vinegar, chilli-garlic sauce, ginger, sesame oil, and black pepper together in a saucepan; bring to a boil. Whisk cornflour and water together in a small bowl until the cornflour dissolves; pour into boiling soy sauce mixture. Reduce heat to medium-low and cook until the sauce is thick, 3 to 5 minutes.
Step 5
Once the fries have finished, carefully take the fries out of the oven and drizzle over the sticky glaze sachet. Pop back into the oven for 2 minutes, until the sauce is gently bubbling. Carefully take the fries out of the oven, turn the fries to coat with the sticky glaze before serving.
Step 6
When the kebabs are cooked, glaze with the sauce and serve with the McCain Crinkle sticky fries Thai sweet chilli and pickled Coleslaw.