'FAKEAWAY' SALT AND PEPPER CHIPS
Salt and Pepper chips came about back in the nineties when Chinese chippies wanted to accommodate those with less adventurous palates who were potentially thrown off by anything not served on chips! These days salt and pepper chips are a takeaway classic that merges Chinese inspired flavours with chips to create an incredibly satisfying dish.
Everyone loves the ease of takeaways but this 'fakeaway' version proves that some things can taste just as good at home. The fact that these come straight out of the pan and onto your plate, in the time it would take to order and wait for a takeaway, means that you don't risk a soggy chip. And isn't a dish that doesn't require much prep or washing up the perfect dish to make at the end of a long week.
If you need more persuading, then making this at home means that you can adjust the seasoning to cater to everyone's taste. If you like it spicier then add in some chilli flakes. If you like it more peppery add few extra grinds of the pepper mill. On top of this, you can also guarantee this dish is vegan which is something some takeaways cannot offer.
This recipe calls for celery salt which gives the dish an umami, savoury kick but regular sea salt works just as well. It is also worth checking the Chinese 5 spice mix you are using to see if any sugar has been added. If it has then you may want to give the seasoning a taste before adding any more sugar. Finally, if you don't have dried garlic then you can just as easily add a clove of crushed garlic towards the end of cooking the peppers.
McCain's Naked Oven Chips are the ultimate chip for this dish as they are the perfect mix of crunchy and fluffy. They also hold their own when coated in the sweet-savoury seasoning, giving you that proper takeaway experience.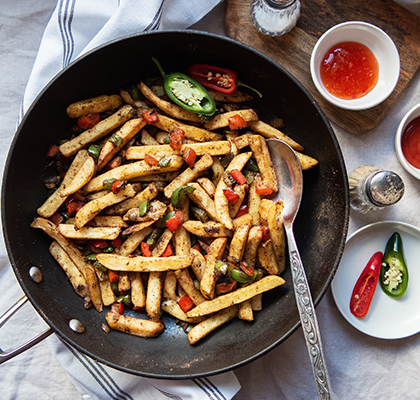 Ingredients
500g McCain Naked Oven Chips, Straight cut
1 red pepper, cubed
1 green pepper, cubed
1 mild green chilli, sliced on the diagonal
1 mild red chilli, sliced on the diagonal
1 yellow onion, cubed
1 tbsp vegetable oil
Salt and Pepper Seasoning
2 tsp freshly ground black pepper
1 tsp celery salt or sea salt
1 tsp garlic powder
1/2 tsp Chinese five-spice
1/2 tsp granulated sugar
How to cook
Preheat oven to 220°C/200°C Fan/Gas Mark 7
Step 1
Start by prepping your vegetables.  A good tip when cutting the peppers and onions is to get them all roughly the same shape so they cook evenly in the pan. The best size is around 1 cm cubed. Once prepped then set them to one side.
Step 2
Spread the chips in a single layer on a baking tray in a preheated oven for 15 – 20 minutes, turning halfway through cooking to make sure they crisp up evenly.
Step 3
Combine all the spices for the salt and pepper seasoning in a bowl and set to one side.
Step 4
Heat about a tablespoon of oil in a large wok or pan. The chips will end up in this pan later so make sure it is big enough for everything. Once the oil is hot, but not smoking, you can add the chopped onions. Cook for about two minutes before adding the peppers and cooking for another 5 minutes. You do not have to add the onions first but it does mean that all the vegetables end up slightly soft around the edges but still maintain a bit of crunch.
Step 5
Once the chips are golden, take them out of the oven and add them to the hot pan of vegetables. Quickly sprinkle over the seasoning, and toss together until everything is coated.  Pour into a bowl or back into the baking tray to serve.
Step 6
Dig in whilst the chips are still hot.  Serve with a sweet chilli sauce or sriracha for dipping.
Variations
Salt & Pepper Chicken Wings
If you'd like to have this at a party or for a family film night, then perhaps serve the chips alongside a pile of crispy chicken wings. All that you need to do is toss the chicken wings in some oil and put them in the oven. Put the wings into a preheated oven at 160ºC Fan for around 35 to 40 minutes. Then turn the heat up to 200ºC Fan and add your chips and cook for 15 to 20 minutes or until both are crispy. Make sure you make double quantities of salt and pepper seasoning and douse the chicken wings in about half of it. Serve immediately alongside the chips with some fresh shredded chilli and spring onions.
Salt and Pepper Tofu
If you would like to prepare a vegan side then tofu works perfectly with the salt and pepper seasoning. Make sure to buy extra-firm tofu so that it holds its shape when fried. First, pat the block of tofu with some kitchen roll to make sure it is dry. Then, slice the tofu into 2cm slices and lightly coat in some flour. No need to season the flour as the tofu will be liberally coated in the salt and pepper seasoning after it is cooked. In a frying pan, put a tablespoon of oil and, once hot, add the tofu. Cook for around 5 minutes on each side or until golden and crispy. Take out of the pan and place in a bowl. Toss with 2 tablespoons of seasoning and a handful of chopped chilies and spring onions. Serve immediately.