Plant Based 'Tuna' Mayo Jacket Potato Filling
Bear with me here. This is a delicious and healthy jacket potato filling whether you are a vegan or not. If you're not a vegan then this is a super tasty, high protein alternative that would be perfect for meatless Mondays or to help you get more plant-based meals in your diet. If you follow a plant-based diet then this topping hits the spot and provides you with a satisfyingly creamy and crunchy filling. This is a really simple recipe that involves chopping ingredients you'd often find in tuna mayo and mixing them with vegan mayo and lightly crushed chickpeas. Try to find the best quality chickpeas you can or even soak your own. But either way, you'll notice the difference if you use best chickpeas you can find.
The best thing about this recipe is also the fact that most of these ingredients are in your fridge or store-cupboard so an incredibly nutritious meal can be knocked up in minutes. The filling almost gets better with age so do a bit of meal prep and prepare extra to have in sandwiches, wraps or on a salad the next day. Make sure you make extra dressing and keep it in a jar for the rest of the week too.
Serving it with rocket or watercress salad with a zesty lemon dressing highlights the soft, velvety chickpeas and mayo combo and instantly turns your midweek meal into something actually quite impressive.
If you want to cater to different tastes then look to the end of the recipe for some variations.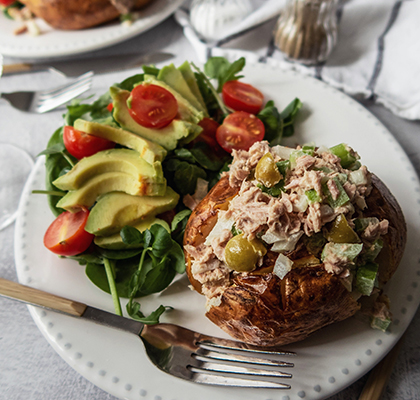 Cooking time
5 – 45 minutes depending on cooking method
Ingredients
Ready Baked Jackets
1 tin of chickpeas
1 stick of celery, finely diced
1 small red onion, finely diced
1 tbsp of capers or green olives
2 – 3 tbsp of vegan mayo
Salt and pepper to taste
Lemon Rocket Salad
1 bag of salad
1 handful of cherry tomatoes
1 avocado
3 tablespoons of extra virgin olive oil
2 tablespoons of lemon juice
1 tsp lemon zest
How to cook
Preheat oven to 220°C/210°C Fan/Gas Mark 7 if you are cooking the jackets in the oven.
Step 1
Place your Jackets onto a baking tray and pop them into the middle of the oven. Bake for 45 – 55 minutes, until they're lovely and crips.
If you choose to microwave the Jacket then cook according to your model. If you choose to microwave the Jacket, then make the filling and salad beforehand.
Step 2
Drain the chickpeas if using tinned or measure out around 400g from a pre-cooked batch. See below for details on how to cook your own. Place in a medium-sized mixing bowl and lightly crush with a fork. You want the consistency to match that of tuna mayo so make sure you leave some whole chickpeas to give it a bit of texture. You can always add in some of the mayo at this stage to make it easier to mash.
Step 3
Finely dice the onion and celery into roughly the same shape and add to the chickpeas. Next, roughly chop the capers and add them to the bowl, then add the mayo and mix to combine. Give it a taste. If you prefer it tangier then you can always add a squeeze of lemon juice at this stage. Season with salt and pepper but bear in mind the capers and mayonnaise can already be quite salty.
Step 4
Put the dressing ingredients into a jar and whisk until emulsified. Chop the tomato and avocado and arrange them on top of the salad. Dress at the table so the salad doesn't go soggy.
Step 5
Once the Jacket is ready, cut it open and drizzle with a touch of olive oil. The Jackets are slow-cooked so they will be ultra fluffy. Spoon in as much filling as you like and serve the salad on the side or on top.
Variations
Make It With Tuna
Of course, this works just as well when you sub the chickpeas for tuna. If you are making it with tuna then add some lemon zest and a few teaspoons of fresh lemon juice to the mayonnaise.
Make It With Chicken 
Fancy making a plant-based version for one family member and a meat version for another? Make a big bowl of mayonnaise, capers, celery and split it between one bowl of cooked chicken breast and one bowl of cooked chickpeas.  Making a big batch of sauce and then splitting it between different proteins is also another great way to batch cook lunch for the week.
Add Some Extra Vegetables 
The chickpeas alone in this dish count to one of your five a day but if you'd like to increase your daily veg intake then add some finely chopped peppers or sweetcorn to the mayo too.
Preparing The Chickpeas 
Cooking and soaking your own chickpeas couldn't be easier. It is definitely a cheaper alternative and is a great way of batch cooking some high-protein vegan food for the week. Any leftover chickpeas can also be used to make hummus. Get a saucepan and soak the chickpeas with plenty of cold water and a teaspoon of bicarbonate of soda. Soak overnight. In the morning drain the water and cover them again with another lot of cold water. Put the pan on a medium heat and once boiling, add another teaspoon of bicarbonate of soda and simmer gently for around an hour or until cooked. Depending on how you like them you can always cook them for longer if you like a softer chickpea.