Mediterranean Vegetable, Chorizo and Feta Jacket Potato
Mediterranean Vegetable, Chorizo and Feta Jacket Potato
Try this topped McCain Jackets recipe made with Mediterranean vegetables, chorizo and feta for a quick lunch time meal, or a mid-week dinner.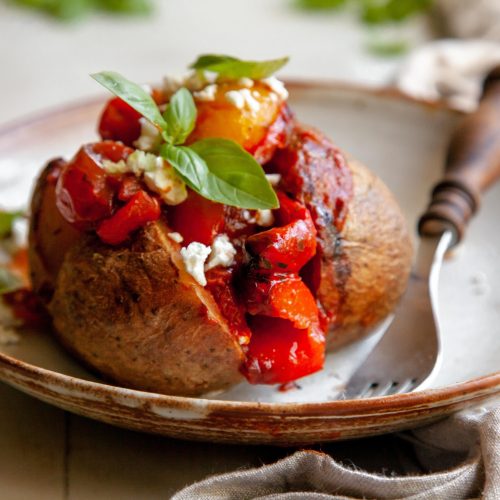 Ingredients
2 McCain Jackets
175g Mediterranean chargrilled vegetables
65g diced chorizo
250g arrabiata sauce
10g feta
10g fresh basil leaves
6.5g Olive oil for frying
How to cook
Step 1
Microwave 2 jacket potatoes as per the cooking instructions on pack.
Step 2
Heat the oil in a frying pan and add the chargrilled vegetables cooking on a medium heat for 5 minutes.
Step 3
Add the chorizo and cook for a further 3 minutes.
Step 4
Stir in the arrabiata sauce and cook for a further 2 minutes.
Step 5
Top your jacket potatoes with the Mediterranean vegetables and serve with crumbled feta and fresh basil leaves.