Spinach Vegetable Nuggets and Chips
Spinach Veggie Nuggets and Chips
Try out this spinach veggie nuggets recipe with McCain Lighter Home Chips for the ultimate teatime meal that's healthy and simple to make.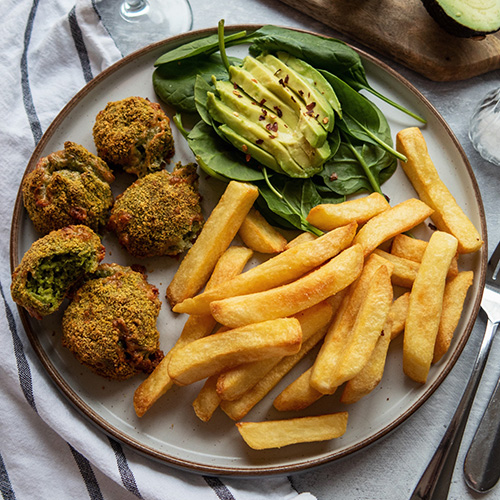 Preparation time
10-15mins
Ingredients
220g McCain Lighter Home Chips straight cut
20g almonds
1 large handful of spinach
100g breadcrumbs
2 eggs
1/2 tsp basil
1/2 tsp oregano
50g grated light cheddar cheese
How to cook
Step 1
Preheat the oven to 220C/Mark 8.
Step 2
Put the almonds and spinach in a blender and process until they are fine crumbs.
Step 3
Whisk the eggs in a bowl and mix in the almond mixture, 1/4 of the breadcrumbs, basil, oregano and cheese.
Step 4
Add the remaining breadcrumbs to a bowl. Roll slightly flattened balls from the mixture in your hands, and then coat in breadcrumbs. Make sure each nugget has an even layer of breadcrumbs on.
Step 5
Spread a single layer of McCain Lighter Home Chips onto a baking tray and pop into the oven for 22-24 minutes.
Step 6
Add the nuggets to a baking tray and cook for 15 minutes, turning halfway through.
Step 7
Once cooked, pop everything on a plate and serve with your choice of vegetables.