Healthier Cheesy Chips With A Mumbai Inspired Green Chilli Chutney
Yes, you read that right, cheesy chips can be made healthier meaning you can enjoy this classic takeaway dish with less guilt. Start by using McCain's Home Chips Lighter and cut the fat content down by 30%. Then, make a fresh and flavourful chutney so you can use less cheese but take away none of the taste. Using reduced-fat cheese slashes even more calories off the dish but it is good to know that even full-fat mozzarella is lower in salt and calories than most other cheeses. Mozzarella is also mild enough to complement the vibrant flavours you get from the green chilli chutney and has that perfect cheese pull which is essential for cheesy chips.
The inspiration for this dish comes from the Mumbai sandwich which is a street food favourite in India. You can get some of the best food in the city from these portable market stalls. Made from melted cheese, potato and a spicy green chutney, this dish is comforting as well as fresh and vibrant. This recipe ditches the bread and swaps chips for potatoes to create a pretty unique dish that draws inspiration from the ultimate cheese toastie.
Make the green mint chutney whilst the chips are in the oven so you can get the whole dish together in less than 30 mins.
Discover how to make this into a date night meal or Saturday bbq side at the end of the recipe.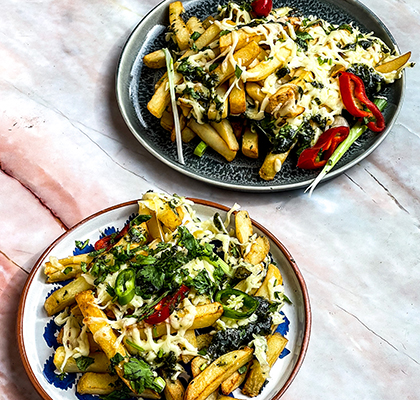 Ingredients
500g McCain Home Chips Lighter
100 g Mozarella
1 red chilli, we used birds eye but use your favourite variety
1 green chilli, we used a mild green chilli to offset the spicy red chilli
Green Chutney
1 large bunch of coriander
1 handful of mint
2 limes, juiced
1 mild green chilli, such as jalapeño or Serrano
1 garlic clove
2 spring onions, finely sliced
5 tbsp olive oil
Pinch of salt
How to cook
Preheat oven to 220°C/210°C Fan/Gas Mark 8
Step 1
Spread the chips in a single layer on a baking tray and put them in a preheated oven for 22 – 24 minutes. Turn them occasionally until they're golden and wonderfully crispy.
Step 2
While the chips are cooking, it is time to make the chutney. Roughly chop the spring onion and garlic and chuck them in either a pestle and mortar or mini food processor. Next, take the seeds and membrane off the chilli and blitz with olive oil, onion, garlic and lime juice until smooth. Then, add the herbs and a pinch of salt and pulse a few times till everything is combined. Taste for seasoning. If it's a little thick then add in a touch more oil.
Step 3
Grate the cheese and finely chop the chillies and set to one side.
Step 4
Once the chips are done, take them out of the oven and the scatter the cheese over the top and pop the tray back in the oven for around 5 minutes or until the cheese is hot and bubbling.
Step 5
Take the chips out of the oven and drizzle the green chutney over the top. Make sure every corner is covered with the tangy sauce. Finish the dish by sprinkling with fresh chillies and any leftover mint and coriander.
Step 6
Serve with the additional chutney and a squeeze of lime.
Variations
Make It Vegan
Any vegans in the family? You can easily substitute the cheese for any vegan alternative.
Turn It Into a BBQ Meal 
This makes a great BBQ side so if you'd like some grilled meat then make these tandoori chicken breasts to serve alongside the chilli chips. All you need are 4 chicken breasts, 100ml of Greek yoghurt, 2 crushed garlic cloves, and 1 tbsp of curry powder. Mix and marinate for at least 2 hours or preferably overnight. You can cook these on a barbecue, or even under your grill, for around 6 to 8 minutes on each side. Make sure the chicken is charred slightly around the edges and cooked all the way through. Remember that cooking times may vary depending on the size of the chicken breast so always check it is no longer pink inside. For a quicker cooking time then cut the chicken into chunks and thread on skewers. Remember to make sure to soak the skewer beforehand if you're using wooden ones. Serve the chicken with some lemon or lime wedges.
Serve It With A Crunchy Green Salad
A fresh, crunchy green salad is a great side for this dish. To make the dressing, put a tablespoon of the chutney in with a tablespoon of olive oil and a squeeze of lime juice. Give the dressing a good shake before coating the lettuce, tomatoes and cucumbers. Serve immediately.
Use Feta Instead
You could always substitute feta for the mozzarella to make it even healthier. As feta doesn't melt in the way mozzarella does, make sure you get a good covering of small crumbs and big chunks all over the chips. You can pop the chips back in the oven for around 5 minutes to warm the cheese up. Once out of the oven, slather generously with the chutney.
Serve With A Cool Raita 
If you'd like to serve another dip alongside the chutney then a cool, homemade raita is the perfect accompaniment. To make this simple side then grate half a cucumber into a sieve. Give it a good squeeze to get as much of the liquid out as you can. Then add it into 250g of Greek yoghurt along with a crushed garlic clove and a handful of finely chopped mint. Mix to combine. Season with a pinch of salt and a generous grind of black pepper.