Black Bean and Avocado Tortilla Wrap
Black Bean and Avocado Tortilla Wrap Recipe 
Try out this vegetarian friendly recipe for Mexican-style avocado and black bean tortilla wraps. Serve with McCain Lightly Spiced Wedges for a quick and tasty dinner.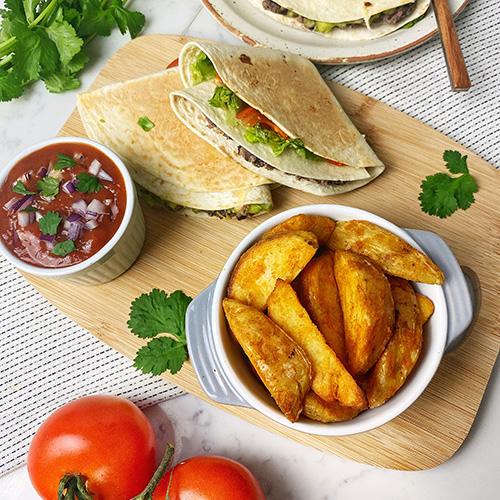 Ingredients
2 Tortillas
170g Black beans
1 Avocado
1 onion
2 tsp sour cream
Grated cheese (1 small handful)
1 tsp olive oil
1 garlic clove (crushed)
Lettuce (small handful)
220g McCain Lightly spiced Wedges
1 tomato sliced
How to cook
Preheat the oven to 220°C/Gas Mark 7.
Step 1
Place Wedges onto a baking tray and pop into the oven for 18 minutes.
Step 2
Heat the oil in a pan and add garlic and black beans. Mash them together and place to the side.
Step 3
Mash avocado, onion and garlic. Add salt and pepper to taste.
Step 4
Make a slit towards the centre of the tortilla. Split the tortilla into 4 sections, and add the separate ingredients to each quarter, then fold in half and half again.
Step 5
Cook the wraps in a pan until light brown.
Step 6
Serve with wedges and your choice of sauce.