Easy Sticky Honey Chicken Recipe
Try this easy Chinese-style sticky chicken recipe with a side of McCain Home Chips for a delicious takeaway-style dinner you can make yourself.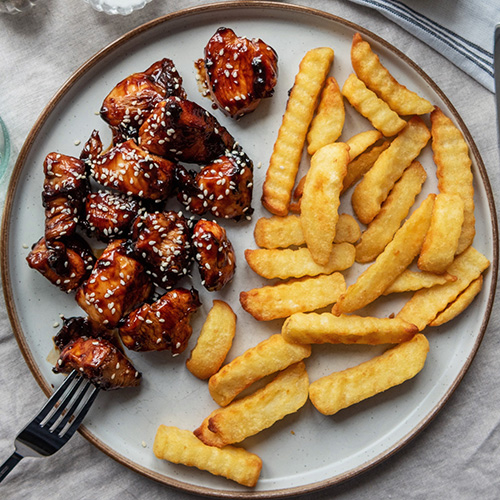 Ingredients
220g McCain Home Chips crinkle cut
Oil
Tsp garlic puree
3 tbsp honey
3 tbsp Balsamic vinegar
3 tbsp soy sauce
2 tbsp sweet chilli sauce
3-4 chicken breasts cut into cubes
Sesame seeds
How to cook
Step 1
Mix together the honey, garlic, vinegar, soy sauce and sweet chilli. Throw in your chicken and mix to coat well, then pop in the fridge for about an hour.
Step 2
Preheat the oven to 220C/Mark 8.
Step 3
Spread a single layer of McCain Lighter Home Chips onto a baking tray and pop into the oven for 22-24 minutes.
Step 4
Heat oil in a pan and add the chicken and marinade. Cook for about 20 minutes, stirring until the chicken has absorbed the liquid.
Step 5
When the chicken has cooked through, serve and sprinkle with sesame seeds.
Step 6
Serve with chips and enjoy.