Hunters chicken with roasted garlic wedges and a homemade coleslaw
Classics are classics for a reason and you cannot go wrong with bacon and cheese. Hunters chicken is a great dish to make with the kids so get everyone involved in making it for a Saturday night family meal. You can then amp this dish up by making your own barbecue sauce which is actually a lot easier than you may think. It takes less than 15 mins to knock up a fresh batch that tastes way better than the store-bought varieties. The best thing about making your own sauce is that you can adjust the seasoning to make it sweeter, spicier or sharper. The roasted garlic wedges give the dish that deep, rich garlicky taste which goes perfectly with the fresh, creamy coleslaw. The garlic roasted wedges are also the ultimate vehicle for the barbecue sauce and add a little something special to the meal.
Why not make extra chicken to make a great sandwich or wrap the next day.
Look to the end of the recipe for ideas on different sides.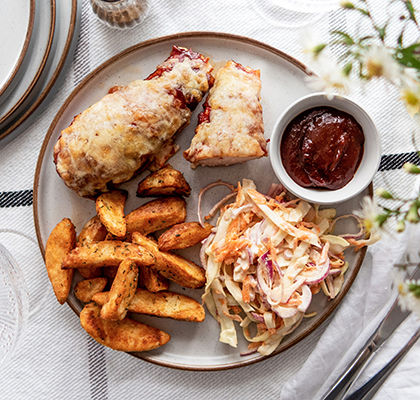 Ingredients
500g McCain Roasted Garlic Wedges
2 chicken breasts
6 rashers of streaky bacon, smoked or unsmoked
50g cheese, we used cheddar and mozzarella
Barbecue Sauce
300ml ketchup
5 tbsp dark brown sugar
1 tbsp soy sauce
1 tbsp Worcestershire sauce
1 tbsp cider vinegar
1/4 tsp mustard powder
1/4 tsp garlic powder
1/4 tsp onion powder
1/4 tsp smoked paprika
1/4 tsp white pepper
Coleslaw
2 carrots, grated or julienned
1 red onion, thinly sliced
1/2 white cabbage, thinly sliced
1/2 bunch of parsley or chives, finely chopped (optional)
50g mayonnaise
1 tsp English mustard
How to cook
Preheat oven to 230°C/220°C Fan/Gas Mark 8
Step 1
To make the barbecue sauce, measure out all the ingredients and put them in a pan. Give it a quick stir and put on a medium heat. Once it starts bubbling, turn down the heat and give it another little stir. Cook it for around 3 to 4 minutes. Dip a spoon in and have a little taste. If you prefer it sweeter then put in more sugar or if you'd like it spicier then you can add some chilli powder.
Step 2
Lay the correct number of rashers of bacon out on a chopping board before you handle the raw chicken breast. Place the chicken breast on the chopping board and tightly wrap the bacon around each piece and place on a baking tray. Drizzle a small bit of olive oil over the top and place in the preheated oven for 5 minutes.
Step 3
Spread a single layer of wedges onto another baking tray and put them in the oven after the five minutes are up. Set a time for 18 minutes but make sure you check on them and flip them over a couple of times so they get all nice and crispy.
Step 4
Whilst the chicken and wedges are cooking, start making the coleslaw. Get a large mixing bowl and either grate or shred the carrot. If you have a mandolin then use this to prep all the vegetables. If not then a box grater works just as well for the carrots. Once you have prepped all the vegetables, add the mayonnaise and mustard and mix until combined. Give it a quick taste and season with some pepper. You can always add slightly more mayo and mustard if you wish.
Step 5
Grate the cheese and set it to one side. We used a mixture of cheddar and mozzarella but gruyere or Monterey Jack works really well too.
Step 6
About 5 minutes before the wedges are ready you will need to take the chicken out of the oven. Quickly spread a tablespoon of barbecue sauce over each breast and add a handful of grated cheese to each. Putting a big pile of cheese in the middle of each breast helps to make sure it doesn't all end up on the baking tray.
Step 7
Take the wedges out of the oven. Check on the chicken and take it out if the cheese is bubbling and starting to go brown.
Step 8
Serve the chicken alongside the wedges and coleslaw with some extra barbecue sauce.
Variations
If coleslaw isn't to everyone's taste then here are some other ideas for side dishes:
Roasted Broccoli
Add broccoli onto a baking tray and drizzle over some olive oil and salt and pepper. Put them into the oven for around 10 minutes before the chicken and wedges are ready.
Chopped Salad
Add cucumber, onions and tomatoes to a bag of chopped salad. For a quick, creamy garlic ranch dressing add 3 tbsp soured cream, 3 tbsp of mayo, 1/2 a minced garlic clove, a small bunch of finely chopped chives, and some salt and pepper to taste. Mix with the salad and serve immediately.
Corn on the Cob
Put corn on the hob in a pan of salted boiling water and cook on a gentle simmer for around 5 mins. Once cooked, drain and put a knot on butter on each and sprinkle some salt and chill flakes.