Peppered Gammon Steak, Egg And Chunky Home Chip Tray Bake 
A midweek meal calls for comfort and simplicity. Gammon, eggs and chips is a British classic but cooking it can involve multiple frying pans meaning lots of washing up. Not exactly what you want after a long day. This whole dish uses just one baking tray and is cooked in the oven to avoid messing up your hob – it just needs a few timers to make sure everything is ready at the same time.  We have served it on the same tray it was cooked on for a gastropub style meal at home with even less washing up.
This dish is incredibly versatile. The quantities are easily scalable so it can be made for one or four people. If you're cooking for four or more people, then it's probably better to use one tray for the chips and another for the gammon steaks, eggs and tomatoes. If you overcrowd the pan, you risk steaming the ingredients rather than roasting them. There are also a few sides and variations at the end of the recipe that can turn this meal into a weekend brunch or even a quick Sunday lunch to feed the whole family. Again, who wants to spend their weekend washing up when you can chill with your family or friends while dinner is in the oven.
Gammon steaks are an inexpensive cut of meat that really benefit from being cooked in the oven. The meat ends up having a crispy, peppery coating but remains juicy, creating the most delicious gammon steak sauce that coats the tomatoes in the tray. The pepper adds a little bit of heat to this classic meal but you can easily omit it. The whole dish pairs perfectly with the mustard mayo but would equally work well with some ketchup. You could even serve it with a simply dressed green salad or some peas to add some extra veg to your evening meal.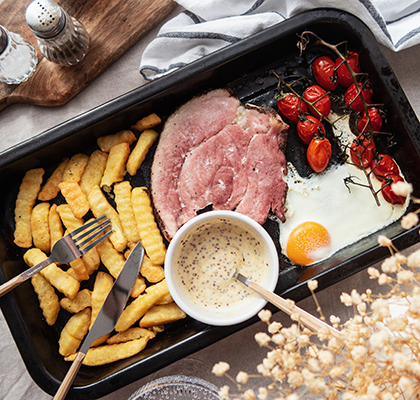 Ingredients
250g McCain Home Chips Chunky
1 gammon steak
1 egg
1 tbsp pepper
Handful of tomatoes
Mustardy Mayo
3 tbsp mayo
1 tsp English mustard
3 tsp wholegrain mustard
How to cook
Preheat oven to 220°C/210°C Fan/Gas Mark 8
Step 1
Spread a single layer of chips on a baking tray or skillet pan and put them in a preheated oven for 10 minutes.
Step 2
Meanwhile, take a bowl and add in the tomatoes. Drizzle them with some olive oil and a sprinkle of salt. Don't add too much as the gammon is already quite salty.
Step 3
Next, make the mayo by mixing the three ingredients together. Taste the mayo and adjust the seasoning if necessary. If you like it punchier then add in more English mustard. The whole grain mustard adds some nice texture, but you could easily add in some Dijon mustard if you prefer. This would give it a sharper taste.
Step 4
Now to cook the gammon steak. Start by lightly coating the gammon steak in some olive oil. Grind some black pepper until there is a fine layer covering the plate. Take the gammon and roll the steak along the plate until the edge is coated in pepper, and don't worry if some of it falls off. This will give the gammon quite a kick, so if you prefer something a little less spicy, just grind some black pepper  over the steak instead or forget about the pepper altogether.
Step 5
Once the 10-minute timer is up, turn the chips over so that they cook evenly. Next, add the tomatoes and gammon steak to the baking tray and put them back in the oven for another 8 minutes. It's best to put the gammon in between the chips and tomato to act as a barrier. The last thing you want are soggy chips!  While this is cooking, crack an egg into a ramekin and set aside.  That will make it easier to pour the egg into the hot baking tray quickly.
Step 6
After 8 minutes, take the tray out of the oven, flip the gammon steak and pour the egg quickly into one of the corners. Set another timer for 4-6 minutes depending on how runny you like your yolk.
Step 7
Serve on a tray or plate with some mustard mayo or ketchup and any of the sides listed below.
Variations
Fried Egg
Alternatively, you can always cook the eggs in a frying pan. This may be easier if you're cooking for a larger group or you don't have a big enough baking tray. If you choose this method, then start cooking the eggs once you flip the gammon – 3 minutes will usually give you a perfectly cooked white and runny yolk.
Baked Spinach and Garlicky Mushrooms
If you'd like to turn this into a meal with three servings of vegetables, then why not try it with some baked garlicky mushrooms and spinach? Take a separate baking tray with high sides and add some button mushrooms. Coat them in a drizzle of olive oil and a grind of black pepper and put them in the oven when you add the chips. Then, at the same time you add the egg to the tray, add in 2 crushed garlic cloves and a bag of spinach. Mix it all together and put it back in the oven for 3-4 minutes. Take the tray out and give it a good mix so the heat of the mushrooms wilts the spinach.
Sunday Lunch
Gammon steak might make for a quick and easy midweek meal, but it can be a great choice for the weekend, too. Sometimes it's nice to get the family around the table on a Sunday and not have to worry about mountains of washing up. As mentioned above, try cooking all the chips in one pan and then the gammon and tomatoes in another. You could try it without the egg and serve it with a velvety crème fraîche sauce instead of the mayo. For four servings, simply add a 300ml tub of crème fraîche into a pan. After a couple of minutes, it should have slightly melted. Then add a tablespoon of English mustard, a generous grind of black pepper and a handful of chopped parsley and stir well. Take off the heat and serve in a jug alongside the two trays so everyone can help themselves at the dinner table.