Homemade fish fingers with Smiles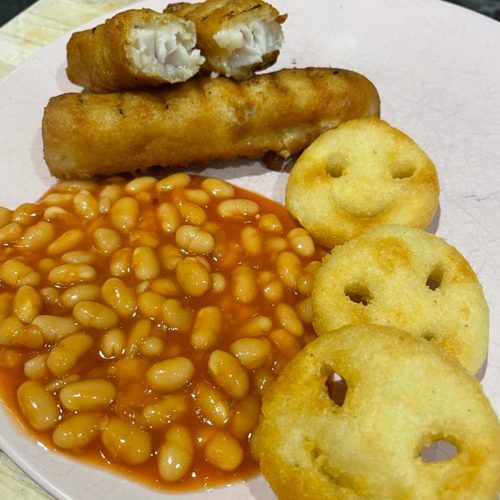 Ingredients
100g any white fish, cut into finger shaped portions
100g plain flour
2 eggs
100g breadcrumbs
150g McCain Smiles
200g tin baked beans
How to cook
1  Grab three separate bowls, and add seasoned flour to one, 2 beaten eggs to the second, and golden breadcrumbs to the third.
2  Take a piece of fish and coat in flour, then in egg and then finally the breadcrumbs. Repeat the egg and breadcrumb stage to make sure the fish is fully coated.
3  Repeat step 2 for all of your fish pieces.
4  Place in your air fryer and cook in your airfryer at 200C for 10 minutes.
5  While your fish is frying, gently heat your baked beans on the hob.
6  Time to add the Smiles! At the same time, flip your fish and cook everything together for a further 5 minutes.