Cornflake chicken with Skin on Fries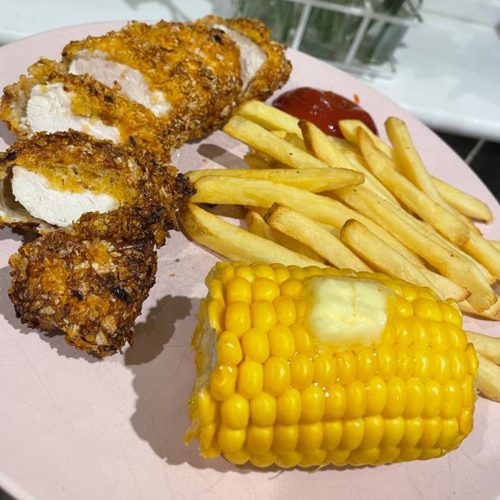 Ingredients
200g cornflakes
100g plain flour
1 tsp smoked paprika
1 tsp garlic granules
2 egg yolks, beaten
1 trimmed skinless chicken breast
250g McCain Crispy Skin On Fries
1 corn on the cob
How to cook
1. Into a sandwich bag, add the cornflakes. Seal the bag and give it a bash until they are like large breadcrumbs.
2. Grab three bowls and add flour, paprika and garlic granules to the first, 2 beaten egg yolks to the second and the crushed cornflake mix to the third.
3. Coat the chicken in flour, then the egg and finally into the cornflakes. Repeat the egg and cornflake stage to make sure the chicken is coated.
4. Cook the chicken in the air fryer at 180C for 10 minutes. While the chicken is cooking, put your corn on the boil – it will need to cook for 12 minutes total.
5. Time to add the fries! Add your McCain Skin On Fries to the basket. At the same time, check on your chicken – flip it and cook everything for a further 10 minutes.
6. Plate it up! Enjoy with your favourite sauce.