Turkey Meatball Marinara Fries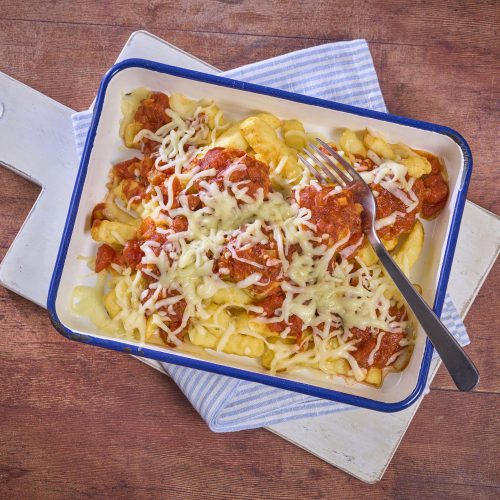 Ingredients
500g Crinkle-Cut Home Chips
400g lean turkey mince
4 tbsp porridge oats
1 egg, beaten
1 onion, finely diced
3 cloves of garlic, crushed
1 tbsp olive oil
2 celery sticks, finely diced
2 carrots, finely diced
2 x 400g tins of chopped tomatoes
2 tsp smoked paprika
½ tsp chilli flakes
1 tsp dried oregano
100g grated mozzarella
Salt and pepper
Low-fat cooking spray
How to cook
Step 1
Preheat both baskets of your air fryer to 200C.
Step 2
In a bowl, mix the turkey mince, porridge oats, beaten egg, one clove of crushed garlic and half a diced onion. Season well.
Use clean hands to bring the mixture together into 12 plum-sized balls. Lightly spray all over with cooking spray and place into one air fryer basket.
Tip the chips into the other basket. Set both to cook for 8 minutes.
Step 3
While the meatballs and chips are cooking, make your sauce. Heat the olive oil in a frying pan over a medium heat and add the diced celery, carrot, half onion and remaining garlic.
Stir until softened, then add the chopped tomato, paprika, chilli and oregano. Allow to simmer, adding a splash or two of water to loosen the sauce.
Step 4
Shake the chips in the air fryer, flip the meatballs over and cook for another 8 minutes.
Once browned all over, stir the meatballs in the sauce. Season well with salt and pepper.
Step 5
Serve the chips, topped with 3 meatballs per person, plenty of sauce and a handful of grated mozzarella. You could also serve it on a big sharing platter in the middle of the table.
Recipes written for a dual basket 24000W air fryer with 7.2l capacity. Please adjust the cooking time appropriately when using different model.