Spicy Falafel Burger with Naked Chips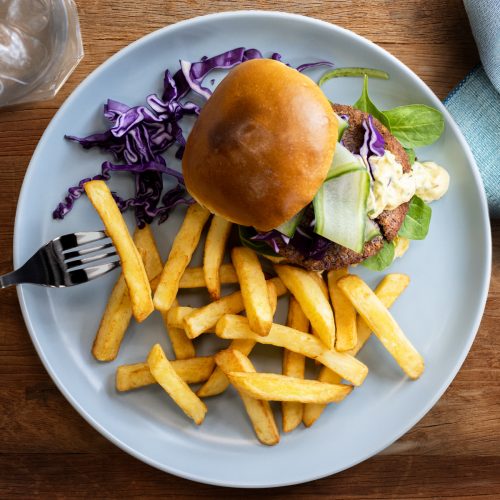 Ingredients
240g Chickpeas, canned, drained
3 garlic cloves
50g Parsley, flat-leaf
1tsp salt
½ tsp cumin
¼ tsp black pepper
1 tsp smoked paprika
¼ tsp chili powder
¼ tsp ground ginger
1 tbsp olive oil
½ tsp garlic powder
1 cucumber
80g red cabbage
20g baby spinach
2 brioche burger buns
Sour cream – 10 tsp
Tumeric – 2 tsp
Salt – 2 pinches
Garlic powder 2 tsp
300g – Naked Straight Cut
How to cook
Step 1
Drain & rinse the chickpeas. Peel and dice the red cabbage and garlic cloves. Wash and chop the parsley.
Step 2
Add the chickpeas, garlic, parsley, salt, cumin, black pepper, smoked paprika, chilli powder, ground ginger and 20g of the red cabbage together to a food processor until everything is well combined and the texture is grainy.
Step 3
Transfer the mixture into a bowl and separate into 2 equal patties. Place in the air fryer and cook for 5 minutes at 200°C then add McCain Naked chips to the air fryer and cook for a further 12 minutes.  Cut the brioche buns and toast in the air fryer when there is 2 minutes left of cook time.
Step 4
In the meantime, prepare the rest for the sauce. Mix sour cream, salt, turmeric and garlic powder together in a bowl.
Step 5
Wash the cucumber and slice it thinly. Remove any damaged outer cabbage leaves. Rinse it under cold water and thread. Wash the baby spinach.
Step 6
Take one tbsp of the turmeric sauce and spread it over the bottom halves of the brioche buns. Add the baby spinach, falafel patties, another tbsp of the turmeric sauce, shredded cabbage, cucumber slices and finish with the top half bun. Serve and enjoy.
The recipe above is based on a 2000W, 4.3l air fryer. Please adjust the cooking time appropriately when using different model