Southern-Fried Chicken and Chips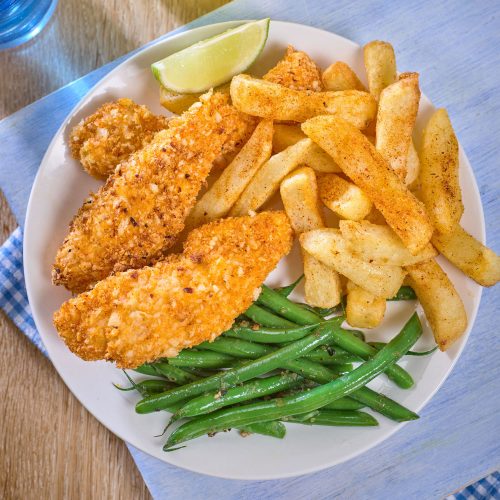 Ingredients
500g Straight-Cut Home Chips
500g chicken breast fillets
110g panko breadcrumbs
1 tbsp vegetable oil
1 tsp each of:
smoked paprika
garlic granules
onion granules
1/4 tsp cayenne pepper
2 eggs, beaten
300g green beans
3 cloves of garlic, crushed
Salt and pepper
Low-fat cooking spray
1 tsp Cajun seasoning (optional)
1 lime, cut into wedges
How to cook
Step 1
Preheat both baskets of your air fryer to 200C.
Step 2
Put the breadcrumbs, vegetable oil and spices in a large shallow bowl and mix to a crumbly texture. Put the beaten eggs in another bowl. Dip the chicken fillets in the egg and shake off any excess.
Step 3
Next, press each one into in the breadcrumb mixture, ensuring all sides are well-coated. Lay them in the air fryer basket. A single layer is best – so you may need to do this in batches if you have a smaller air fryer. Tip the chips into the other basket. Cook both for 8 minutes.
Step 4
While they cook, wash and trim your beans. Place in a bowl with the garlic, salt and pepper, and some low-fat cooking spray.
Step 5
Carefully remove the chicken fillets from the air fryer, spoon the beans into the basket and return the chicken on top, other side up. Shake the chips. Cook both for another 7 minutes. If using the Cajun seasoning, sprinkle it over your chips 2 minutes before the cooking time is finished.
Step 6
Check the chicken is cooked all the way through – not pink in the middle – before serving. Thicker fillets may need an extra few minutes.
Step 7
Serve the chicken, chips and beans with lime wedges on the side.
Recipes written for a dual basket 2400W air fryer with 7.2l capacity. Please adjust the cooking time appropriately when using different model