Korean BBQ Skewers with McCain Quick Cook French Fries
A midweek meal calls for simplicity and speed. The McCain Quick Cook French fries with Korean BBQ skewers recipe can be prepared and cooked in just 15 minutes. Cooking the whole meal in an Air fryer means less washing up and delicious results!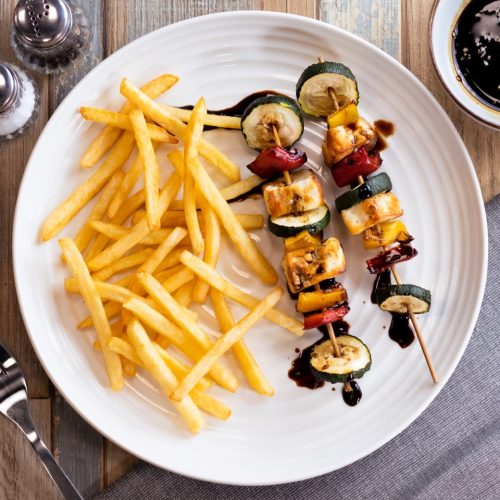 Ingredients
225g Halloumi Block
324g Peppers
414g Courgette
For the Korean BBQ Sauce:
130ml Soy Sauce
100g cup Dark brown sugar
2 tbsp. minced garlic
1 tbsp. rice wine vinegar
1 tbsp. chili garlic sauce
1 teaspoon grated ginger
1 teaspoon sesame oil
1½ teaspoon grounded black pepper
1 tbsp. Cornflour
1 tbsp. water
350g McCain Quick cook French Fries
How to cook
Step 1
Preheat Air fryer to 200°C
Step 2
Cut the Halloumi, Peppers and Courgette roughly 6cm by 6cm and place onto the skewers.
Step 3
Stir soy sauce, brown sugar, garlic, rice wine vinegar, chilli-garlic sauce, ginger, sesame oil, and black pepper together in a saucepan; bring to a boil.
Step 4
Whisk corn starch and water together in a small bowl until the corn starch dissolves. Then add to the soy sauce marinade. Reduce heat to medium-low and cook for 3 to 5 minutes, until the sauce is thick.
Step 5
Place the Skewers in the Air fryer basket and slide the basket into the Air fryer. Cook for 5 minutes.
Step 6
After 5 minutes add the McCain Quick Cook French Fries into the Air fryer basket and cook for a further 5 minutes.
Step 7
Once cooked cover your skewers with the Korean BBQ sauce and serve.
The recipe above is based on a 2000W, 4.3l air fryer. Please adjust the cooking time appropriately when using different model