Halloumi and Pesto Ciabattas with Smiles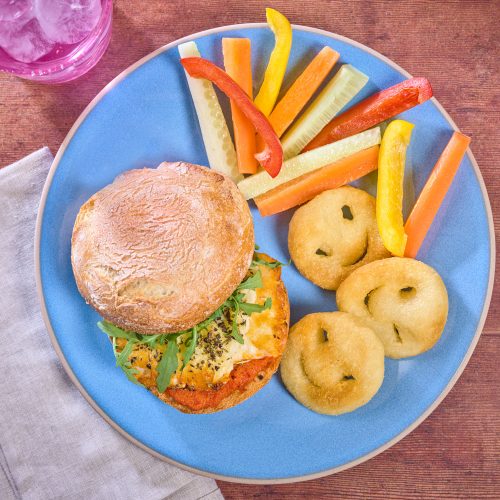 Ingredients
250g Potato Smiles
2 x 225g blocks of halloumi, each sliced into four large rectangles
1 tsp each of:
dried basil
dried oregano
dried thyme
3 tbsp olive oil
4 ciabatta rolls
100g red pepper pesto
60g rocket leaves
3 carrots, sliced into batons
1 cucumber, sliced into batons
2 peppers, sliced into batons
How to cook
Step 1
Preheat both baskets of your air fryer to 200C.
Step 2
Brush the halloumi slices with 1 tbsp olive oil, sprinkle over the herbs and arrange – in as few layers as possible – in one of the air fryer baskets.
Step 3
Tip the Smiles into the other basket. Set both to cook for 5 minutes.
Step 4
Shake the Smiles and set to cook for another 5 minutes.
Step 5
Flip the halloumi over and set to cook for another 4 minutes.
Step 6
Brush the inside of the ciabatta rolls with the remaining oil.
Step 7
Once the halloumi is golden, remove it and put the rolls in the air fryer, oil side up, for 1 minute to toast. Depending on the size of your rolls, you may need to do this in batches.
Step 8
Spread a generous spoonful of pesto on each warmed roll, top with 2 halloumi slices per person and finish with a handful of rocket leaves.
Step 9
Serve with Smiles and vegetable crudités.
Recipes written for a dual basket 2400W air fryer with 7.2l capacity. Please adjust the cooking time appropriately when using different model