Gluten free lamb kofta kebabs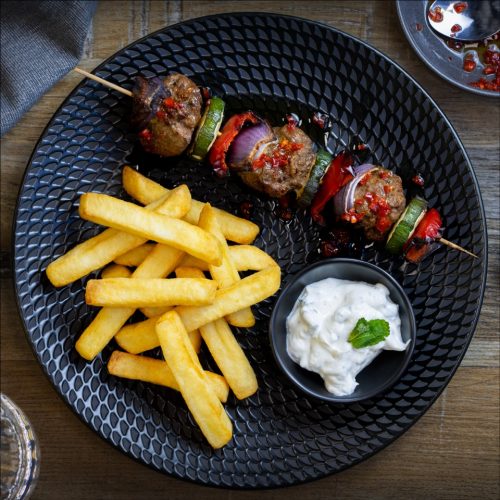 Ingredients
250g Lamb Mince
2 tbsp Mint Leaves
1 tsp Salt
2 tsp Pepper
2 tbsp Garlic Granules
2 tbsp Onion Granules
1 Courgette
1 Red pepper
1 Red onion
Tzatziki sauce
McCain Home Chips Gluten Free 300g
Optional:
Chilli oil
How to cook
STEP 1: Mix your mince, mint leaves, salt, pepper, garlic and onion granules then split into 12 equal ball shaped koftas. Cut your courgette into thick slices
STEP 2: Place your mince mix onto your skewer following by courgette, pepper and onion and repeat until your skewer is full. Leave to one side.
STEP 3: Place your Gluten Free Home Chips into your preheated air fryer (200c) and cook for 14 minutes
STEP 4: Add your skewers for the final 10 minutes of cook time.
STEP 5: Once plated, glaze skewers with chilli oil and serve with your Tzatziki as a dip
The recipe above is based on a 2000W, 4.3l air fryer. Please adjust the cooking time appropriately when using different model