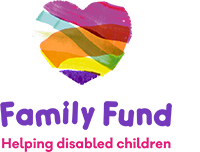 McCain and Family Fund, have created a limited edition, inclusively designed scoop bowl, as part of a new campaign fronted by presenter and comedian Alex Brooker.
This bowl is ideally suited for families raising seriously ill or disabled children.
We're big on bringing families together to enjoy mealtimes, and we know teatime looks different for every family. That's why we've made this bowl to help bring families a functional piece of tableware that's bursting with personality.
The inclusive scoop bowl features a playful design which your family is sure to love. It has an anti-slip suction base and a raised, curved side to help anyone using it to easily scoop food. The bowl is dishwasher safe, shatterproof and microwaveable.
All of our limited edition bowls have now been redeemed and we are no longer accepting orders. 
For any queries on orders already placed please contact mccain@promowinners.com.
To hear more about our ongoing partnership with Family Fund, please visit the link here: mccainfamilyfund.co.uk.
This year, Family Fund is celebrating its 50th anniversary. Find out more