Fully Loaded Nacho Chips With A Homemade Garlicky Ranch Dressing
Nachos have everything. They're tangy, cheesy and spicy. It's clear why they're an international crowd-pleaser that has been around since the 40s. Originally created as an impromptu meal, we are taking this winning flavour combination and smothering it all over golden, fluffy chips. Super simple and totally satisfying, it makes the perfect fuss-free dinner and can be prepared in the time it takes the chips to cook. With plenty of protein and fresh vegetables, our fully loaded nacho chips are healthier than you might think. So join us as we take nachos to the next level  by transforming this crispy favourite into a delicious main meal.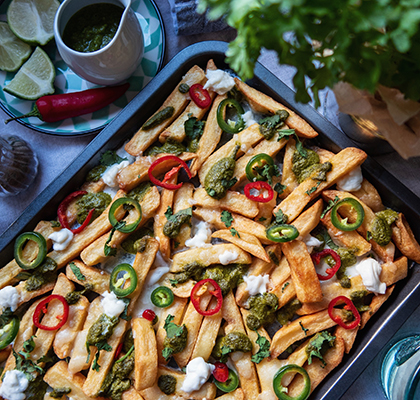 Ingredients
500g McCain Home Chips
250g beef mince
1 tbsp olive oil
2 tsp smoked paprika
1 tsp garlic powder
1 tsp cumin
1/4 tsp salt
1/4 tsp cayenne pepper
Garlic Ranch Dressing 
3 tbsp soured cream
3 tbsp of mayo
1/2 garlic clove, minced
Chives, finely chopped (optional)
Salt and pepper to taste
Toppings
150g cheddar, grated
3 spring onions, sliced
2 medium tomatoes, diced
1 avocado, diced
Pickled jalapeños (optional)
How to cook
Preheat oven to 220°C/210°C Fan/Gas Mark 8
Step 1
Spread the chips in a single layer on a baking sheet and put them in a preheated oven for 24 – 26 minutes. Turn them occasionally until they're beautifully crispy and golden.
Step 2
While the chips are cooking, heat the olive oil in a large frying pan and add the beef mince. Fry the beef with the paprika, garlic powder, cumin, cayenne pepper and salt for around 5-8 minutes on a medium high heat and then leave it to one side.
Step 3
To make the ranch dressing, mix all of the  ingredients into a bowl. Season to taste.
Step 4
Grate the cheese and chop, slice or dice the spring onions, tomato and avocado and place to one side.
Step 5
Once the chips are done, take them out of the oven and leave them on the baking sheet.  Top the chips with the cheese and then the beef and put back in the oven to melt for around 5 minutes.
Step 6
Remove the chips from the oven once the cheese has melted. Serve topped with your chopped vegetables, jalapeños and ranch dressing.
Drizzling the dressing over the top ensures every bite is bursting with flavour. However, if you have fussy eaters in the family, you could also serve the ranch dressing as a dipping sauce.