Portobello Mushrooms with Crispy French Fries
Portobello Mushrooms with McCain Crispy French Fries
Try out this veggie Portobello Mushrooms and McCain Crispy French Fries recipe for a teatime meal that's healthy and simple to make. Using an Air fryer you can cook up this meal in less than 15 minutes.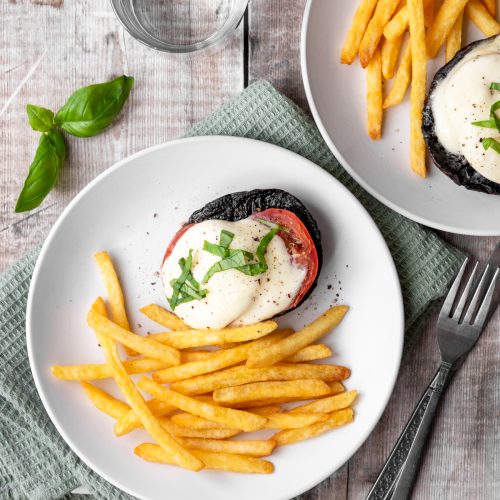 Ingredients
2 large Portobello mushrooms, stems removed
50ml olive oil
2 tablespoons balsamic vinegar
1/2 teaspoon salt
1/2 teaspoon dried basil
4 tomato slices
2 slices mozzarella cheese
Chopped Fresh Basil
350g McCain Crispy French Fries
How to cook
Step 1
Preheat Air fryer to 200°C
Step 2
Place mushrooms in a shallow bowl. Mix oil, vinegar, salt and dried basil; brush onto both sides of mushrooms. Reserve remaining marinade.
Step 3
Place McCain Crispy French Fries in the basket and slide the basket into the AirFryer. Cook for 6 minutes.
Step 4
After the McCain Crispy French Fries have cooked for 6 minutes, open and shake fries. Then add mushrooms stem side down, and bake for 4 minutes.
Step 5
After 4 minutes open the Air fryer, top the mushrooms with the tomato slices and mozzarella, bake for a further 2 minutes until cheese is melted.
Step 6
Remove from air fryer basket and serve.
The recipe above is based on a 2000W, 4.3l air fryer. Please adjust the cooking time appropriately when using different model