Triple Cooked Gastro Chips
Our posh pub chips. They're as indulgent as you'd expect: made from the best potatoes, thick-cut and triple-cooked. These are proper pub chips brought to the home.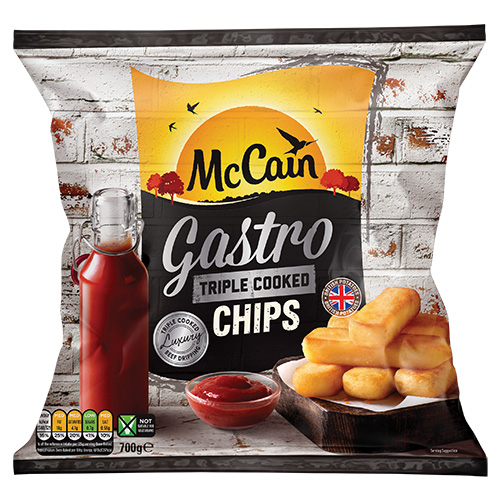 | | | |
| --- | --- | --- |
|  NUTRITION | Per 100g Frozen | Per 100g Oven Baked |
| Energy (kJ) | 776 | 1072 |
| Energy (kcal) | 186 | 257 |
| Fat | 11g | 14g |
| Saturates | 2.4g | 3.3g |
| Carbohydrate | 19g | 28g |
| Sugars | 0.5g | 0.5g |
| Fibre | 2.2g | 3.1g |
| Protein | 2.2g | 3.2g |
| Salt | 0.30g | 0.47g |
* Portions should be adjusted for children of different ages.
Ingredients
Potatoes (89%), Vegetable Oils (7%) (Corn, Rapeseed, Sunflower) – in varying proportions, Beef Dripping (3%), Salt 
ALLERGY INFORMATION:
We are now making our Gastro Chips at a different McCain facility; the product made there is gluten free and is correctly labelled as such.
As our Gastro Chips have an 18 month shelf life, some product may still be in the market, or possibly in your freezer at home, that was not made at this facility and will have 'may contain wheat' printed on pack. New product will not have this on pack. However, it is important to note that both products are correctly labelled.
We would encourage you to please always check the ingredients declaration on the back of each pack. We'd like to reassure you that the information on pack is correct and will depend on which McCain facility the product was made in.
How to Cook
The following cooking instructions are for 500g of McCain Triple Cooked Gastro Chips. For smaller quantities reduce the cooking time accordingly. For best results cook from frozen. DO NOT overcook!
OVEN
Preheat the oven to 230°C/220°C Fan/Gas Mark 8.
For best results use a DEEP edged baking tray WITHOUT HOLES and preheat the tray for 5 minutes.
Spread a single layer of chips onto a baking tray and pop it into the top of the oven.
Bake for 25-30 minutes, turning them every now and again, until they're lovely, crisp and light golden.
TAKE CARE: The fat will be HOT!