Season & Savour Goose Fat Roasts
with Toasted Onion, Garlic & Thyme
Our elegantly seasoned onion, garlic and thyme roasts are something to savour! Simply crisp up the goose fat roasts in the oven, then sprinkle with our finest seasoning for extra taste.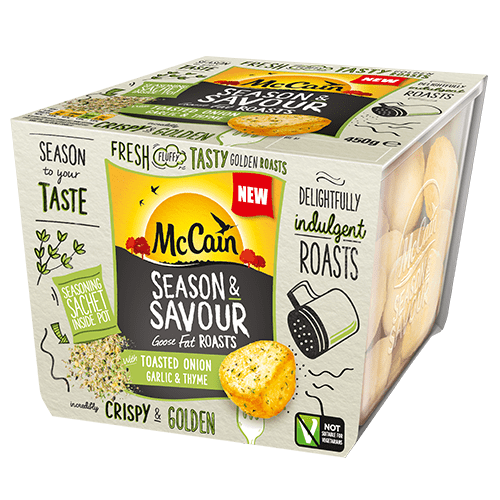 | | |
| --- | --- |
|  NUTRITION | Per 100g Oven Baked |
| Energy (kJ) | 853 |
| Energy (kcal) | 204 |
| Fat | 9.9g |
| Saturates | 1.9g |
| Carbohydrate | 25g |
| Sugars | 0.5g |
| Fibre | 2.8g |
| Protein | 2.3g |
| Salt | 0.48g |
* Portions should be adjusted for children of different ages.
Ingredients
Potatoes (87%), Goose Fat (6.2%), Vegetable Oil (5.4%) (Sunflower, Corn), Sachet: (Salt, Onion Powder, Black Onion Seeds, Dried Garlic, Rosemary, Parsley, Thyme, Black Pepper, Sunflower Oil, White Pepper), Salt.
How to Cook
The following cooking instructions are for one full pot of McCain Season & Savour Goose Fat Roasts. For smaller quantities reduce the cooking time accordingly. For best results cook from chilled. DO NOT overcook!
IN THE OVEN
Preheat the oven to 230°C/220°C Fan/Gas Mark 8.
For best results use a DEEP edged baking tray with NO HOLES to prevent any of the basting fats from leaking into the oven and preheat the tray for 5 minutes.
Remove all packaging and sachet.
Tip directly onto a preheated baking tray, spread evenly and pop it into the top of the oven. Bake for 40-45 minutes, turning them every now and again, until they're lovely, crisp and light golden.
Before serving, cut open the sachet and sprinkle the seasoning from the sachet evenly over the roasts.
Check food is piping hot throughout before serving.
TAKE CARE: The fat will be HOT!